oh i m so exited!

there are BIG chances i ll spend one month 
during summer in tarrytown,language exchange 
program.  this sounds so unbelievable ,i m just 
too happy :) and got one more reason to 
RECOVER.
so know it's your turn dear readers,
tell me everything you know about tarrytown ?;)
i really can't wait for the summer ,
but it seems so far away as right now 
looking out of y window everything is 
white and snowy :/
i m really not a winterperson
well i like to "watch" the winter,wintersport,
but: it's to cold for me.
i m always freezing,even in summer,so during 
wintermonths, it's really hard,as most of the 
time we have like 23 f...which kind of paralyses 
me and makes it difficult to go outside.
winter=cold=home=missingwalks=boring=headaches....
thank you very much e.d. for making me such a
"chilblain" :(
oh but it has one positive side,
i ve plenty time to cook :
1) dinner:pastelsalad.
(quorn.apple.avocado.quinoa.wheat(ebly).redrice.salad.cashews )
right before falling asleep,i suddenly had pictures of great meals in my head,couldn't wait to get up ;)
well as usual i was up at 4(:/)
an pretty soon i started cooking:
2)the best oatmeal i ve ever had!a day started with this ,can only become a good day :)
banana.coco.cashew.creamcheese.choco.oats.
heaven.
(and (too) many cups of cinnamon&vanilla coffee )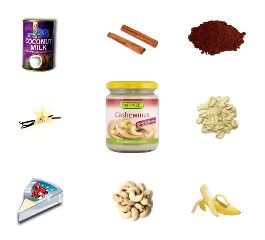 3)lunch:as i had plenty time,i decided to create my first veggiburger,as i didn't find a good recipe,i made some freestyling haha :)
but i m quiet happy about the result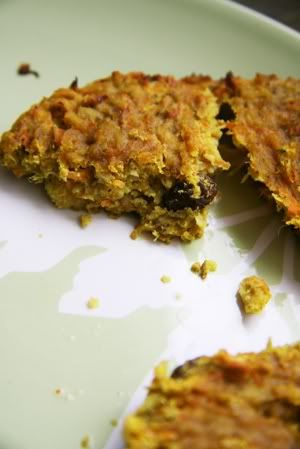 curry.coco.redlentil.raisin.date.quorn.oat.cin.honey.burger.
&bread"chips" (grainbread+currypeppersalt+oven+rollingpin)
&coco.cin.guacamole
(mycurry spice mix recipe will be post 2morrow not enough time left;)
(and a nice cup of ginger&citron tea)
4) unfortunately i was still very early,so i tried an other new thing:larabar
ever since i read f-blogs i m so jealous to see people eating larabars.in my country they don't sale anything like that,and i would almost take a plain to make a trip to the u.s. just to try one of this bars haha :) 
one day i m gonna marry a multimillionaire ;) 
but until then i tried to come up with my own larabars :
dattle.raisin.almonds.cashew.apple.cin&van.cashewbutter
first i tried to blend it all in my mixer,but he didn't survive it haha,so i just mashed it with a fork after:
-heating the raisins&dates with water in the micro.
-shredding apple ,an with paper/towel trying to get the most juice out of it (don't throw it away,this juice is absolutely delicious :) )
mixed all of it & formed a bar >fridge
and oh this was so good,like apple.cin.xmas.nut cake :)
unfortunately i m not able to tell you if it tastes like the real larabars haha :) but it tastes as i imagine lbars taste ;)
it's gonna be hard to top that tonight haha
it's so strange to read this,some weeks ago i had never even dreamed of eating like this,to be honest yesterday was the first time i had avocado since years! my main problem : fat...i m still not able to use oil,butter ...it's just so difficult for me to "waste" those calories in something that doesn't brings me much satisfaction/taste,for me the difference between oil-free or oily vegetables for instance isn't worth the calories :/
therefor i try to eat plenty nuts ,which i love,to give my body at least some fats.
but now i m off to have coffee with a friend in a very small coffeehouse in my city.it's so cosy,at the inside it looks just like a livingroom,even little cheesy , the coffee is amazing & best of all: there are only (very lovely/hot) boys working,which are always in the mood for some chitchatting :)
maybe i m gonna make a pic ,as i believe my descriptions aren't very clear ;)
i wish you all a tasty day,tomorrow is finally friday,almost weekend :)