aloha.
hmm let's start with a little gift for you ;)
checking out jealously the quakers products available in the U.s.
 (we just have the very simple oats :( no larabars,1 brand 
nut-butters,no cliff bars,no TJ,no flav.oikos,only 1 cottcheese.....
(i should move!)
well i found this on their website:
http://www.quakeroats.com/cooking-and-recipes/content/quaker-instant-oats.aspx
big gallery AND you can create your own crazy oatmeal haha :)
so now from the virtual food to the ehm...slightly more real food :
breakfast : 
actually i had prepared a very nice bowl of "overnight.oats.bircherstyle. "
but this morning,i decided to be spontaneous,so i walk over to the fridge,
took one egg-white,mixed it in my oats and chased them to the oven :)
> flavorful amazing oatmeal ,the texture is very different if you let the 
oats soak before heating them.
(oats & flaxseed & 1apple(shr.) & 0.5banana(mash) & nut+driedfruitmedley 

& soymilk(+h2o) & cinvan & eggw)
right after the picture: switched the GIANT pancake into a bowl,i don't 
know why,but i always prefer to eat out of bowls rather then on plates,
i even cut my sandwiches in pieces and put them in a bowl to eat them 
with a spoon haha :)
dinner last night,made in a rush as i was very hungry...
fastvegchilly(can.tomatoes,black beans,ypepperchills,CHILLLLI,carrot&feta )
+ "breadchips" + carrot,raisin,cashew,cinnamon,ojuice,iceberg salad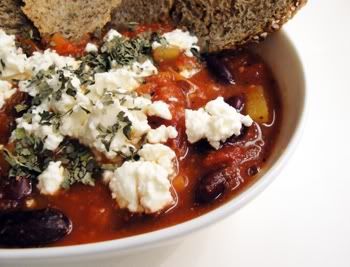 and last but not least : todays lunch

aka. grainbread+laugh.cowchees+beans+ypepper+tomatoes >oven baked
&     carrot+ginger+cinnamon+raisins+soymilk+almonds  > "puree"
all top with tons of white pepper :)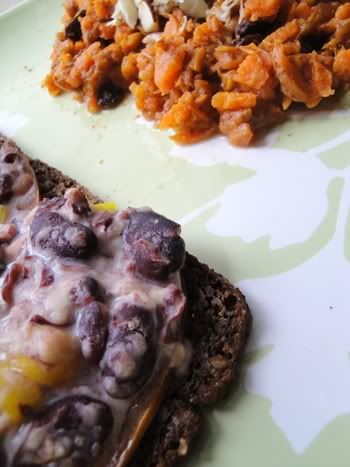 again i m having such a bad headache,and i am awake since 3...:/
but my morning was very nice AS i took a class in a new yogaclub
so far i might have done yoga like 3 times in my life,but i though 
it would be a good idea to take some lessons,this might help to 
feel better ,to be more aware of my body,his needs,
to "distress" ,find an inner balance..less sleep troubles,
more zen...blablabla ;)
in fact it was really nice,i was impressed by the passion the 
instructor had for his work
it was really contagious !
nice thing 2 : there were no mirrors...i remember my old ballet 
lessons,seeing myself wherever i looked...
it's so much better/healthier to listen to your body from the inside,
instead of  judging it by a fake reflection.
so i m gonna return to this course and hope that i will find my inner
balance haha :)
what about you?
yoga?when yes,has it helped you?
facing the same bowlphenomen aka. platephobia? ;)